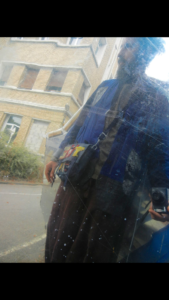 I am aware that when I am walking through these local shops there are quite a few people who clock me as they notice particularly the details of the large holes of my brain. And they often get a bit freaked out. These days my hair is actually longer and so I can finally feel a bit more comfortable. Occasionally I can wander the streets without wearing one of my big hats, and in fact once in a while I actually feel like a 'normal' human being. And That's why now hopefully I am able to write this text of words with you.
For me all the types of humans are much better than the computer voices with whom I normally live. The reason why I am now actually attempting with this kind of typing is that all of the sentences that I am creating are strange for me. Right now I do have doubts on every part of my emotional text that I communicate. But hell, I am here, and I do truly love you human readers. I hope that the words that I am typing away on this computer are now somehow managing to communicate my emotions and with your assistance in social media I'll take control over these machines.
I am aware that in this modern present time there are many types of humans, who each has a radical complex reality with all their own computers. And considering that I am a strange person who can only type words when the computer reads it back very dryly, this modern reality is confusing for me. I am always very confused about everything. That is why I am trying to somehow understand how this relationship really works. I can't remember any detail from the sentence that I just put down, but with the cold assistance of this machine I am going to communicate this anyway. I am sure that it's necessary for all of you, even if you are normal human beings.
It is very clear for me that during every moment of this day I always need the relationship with this new, cool technological machine. In fact this is not really an option for me as these new machines have to accompany me wherever I am.
Obviously each one of us has a particular type of addiction to their machines. Some are truly positive and others destruct people's lives. There are many people you know who are unable to stay concentrated on a 10 minute long discussion. Their physical body forces them to pick up their phone or computer to look at some urgent detail in social media.
In fact, now that I think about it, is that actually a 'problem'? To what level?
My own modern philosophy is being developed by my own new brain, which, for me, is presently becoming a new type of super-powered character. So I truly need your assistance for this. I am confused in these realities as I am always forced to live in the deep world of computers. So, if you do have any particular philosophy on that theme do let me know. It could be very helpful. And obviously if you are a computer yourself and you have some issue please do let us know your own attitude and anxiety for the potential future.
in front of you they bring emotions…